HEALTH | Black women are three to four times more likely than white women to die of pregnancy-related causes, with postpartum hemorrhaging being one of the leading preventable causes. Doctors and patients believe implicit bias is partly to blame for the high number. (NBC News, 5/11)
The racial disparity in U.S. maternal mortality rates is one of the severest in all of women's health. Researchers don't have a clear explanation for why.

"There seems to be something specific about the African-American experience here in the United States that seems to just have a toxic effect on the health of African-Americans," said Swapna Reddy, who teaches a class on health disparity at Arizona State University. "It seems to be this double whammy, the intersectionality of being both African-American and also being a woman."
ENVIRONMENT | This law firm is helping to install solar panels in the District's low-income communities. (WaPo, 5/11)
PUBLIC SAFETY | Mass Incarceration Is a Public-Health Problem (Atlantic, 5/11)
HOUSING
– Tysons Corner's plan to attract new residents includes building transit-oriented development and walkable spaces. (GGWash, 5/10)
– The District's attorney general's office has reached a settlement with Sandford Capital, one of the city's most controversial landlords, to sell off its remaining properties and stay out of subsidized housing until 2025. (WaPo, 5/10)
FINANCE | The National Community Reinvestment Coalition has found that banks are reluctant to lend funds to low- to moderate-income borrowers and borrowers of color. (Next City, 5/9)
---
Social Sector Job Openings 
Executive Director | Nonprofit Montgomery– New!
Grants Program Analyst | Legal Services Corporation
Vice President of Strategy | Gill Foundation
Associate, Program Design | Flamboyan Foundation
Associate, Program Operations | Flamboyan Foundation
Director of Communications and Marketing | Grantmakers for Effective Organizations
Membership and Program Coordinator | Funders Together to End Homelessness
Communications Associate | Venture Philanthropy Partners
Programs Officer | DC Bar Foundation
Finance Manager (Part-Time) | United Philanthropy Forum
Communications Manager | United Philanthropy Forum
Hiring? Post your job on WRAG's job board and get it included in the Daily! Free for members; $60/60 days for non-members. Details here.
---
Community Calendar
To add an event to WRAG's community calendar, email Rebekah Seder.
---
The evolution of trust…
– Kendra
WORKFORCE | Next month, District residents will vote on whether to increase the minimum wage for tipped workers to $15 an hour. While some workers support the initiative, restaurant owners and some workers believe that if DC votes yes, it will cause businesses to shut down and end the practice of tipping. (WCP, 5/9)
According to May 2017 data from the Bureau of Labor Statistics, there are 8,440 servers in D.C. Their hourly mean wage is $17.48 ($36,370 annually). By contrast, their median wage is $11.86. That means half of servers earn less than $12. The numbers increase for bartenders, of which there are 4,290 in D.C. Their mean hourly wage is $18.29 ($38,050 annually), while their median hourly wage is $15.05. These figures include tips, though restaurants don't always report their employees' tips accurately, especially if they're in cash form.
EQUITY | In response to Montgomery County's recent passing of a racial equity resolution, a lawmaker offered that racial inequities could be addressed by "growing private-sector jobs and wages." Temi F. Bennett, director of policy and communication at Consumer Health Foundation, discusses why this particular strategy won't address racial inequities in the county. (CHF Blog, 5/2)
IMMIGRATION | The administration is proposing new regulations for the treatment of immigrant children detained at the border. (WaPo, 5/9)
TRANSPORTATION | CVS to end SmarTrip sales and other Metro card services heavily used by low-income riders (WaPo, 5/9)
HOUSING | DC Council has introduced legislation that would create rules for the storage and removal of the property of evicted families. (WCP, 5/3)
ARTS & HUMANITIES
– Twenty artists are beautifying a neighborhood in northeast DC through an international mural festival. (WAMU, 5/10)
– NIH scientists, arts experts take note of music's impact on brain (WTOP, 5/10)
---
This quiz will guess your age depending on how many Disney movies you've seen.
– Kendra
By Rebekah Seder
Senior Program Manager, Washington Regional Association of Grantmakers
In September, WRAG and Leadership Greater Washington are taking a group of funders and other civic leaders on a journey to learn firsthand about the Civil Rights Movement. We are traveling from Memphis to Birmingham, visiting sites of key activities, meeting with movement leaders and contemporary activists, and attending a number of museums and other institutions. I am incredibly excited about this trip. But, I suspect that some may be asking, "Why would 35 people whose careers are dedicated to improving the Greater Washington region travel to Tennessee, Mississippi, Alabama? Why, when the need to act on today's problems is so urgent, would we be focusing on events of 50 years ago?"
Throughout WRAG's two-and-a-half year examination of structural racism, "I just never learned about this" has been a constant refrain. I suspect that for many of my colleagues, especially those who, like me, attended predominantly white schools, our history education was similar. Certainly we learned key facts – the trans-Atlantic slave trade, Emancipation, Jim Crow. Then, we learned that the Civil Rights Movement happened, because a tired Rosa Parks refused to give up her seat, a group of people marched from Selma to Montgomery, and Martin Luther King had a dream. Then, voila, America achieved racial equality.
This trip will open participants' eyes to a much fuller story.
More than that, I think that this trip will begin to address a wrong that is perhaps more subtle than the many forms of racism that preoccupy our attention. The segregation of history – the idea that black history is somehow different and apart from American history, that the history of black Americans is not intrinsically intertwined with that of white Americans, and that it can be summed up in a chapter or two in a history textbook. A racism that flattens a rich and complex history, renders courageous and groundbreaking leaders as bit players, and writes a historical narrative that raises up white men as agents of change and black and brown people as those that history happens to. This way of imagining the past is like wearing blinders that make it impossible to see and understand the present.
I encourage WRAG members to consider what rewriting their understanding of history could mean for them personally, as well as professionally for their grantmaking and their engagement in the community. We know that it is a commitment of time and money. But, for those funders who are committed to advancing racial equity in our region and within their own institutions, I hope you will join me on this journey. I believe that this trip will be an investment that will pay dividends.
---
WRAG & LGW Members: Contact Rebekah Seder to learn more about this trip.
ENVIRONMENTAL JUSTICE | As new developments come to their community in Southwest DC, residents have raised concerns about the pollution they bring. Residents want city officials to redouble their enforcement efforts, plant more grass and trees in the neighborhood and put up more air-quality monitors. (WaPo, 5/6)
Usually when new development encroaches on low-income communities, residents worry most about being squeezed out by rising costs. In Syphax Gardens [a public housing complex in the neighborhood], a more pressing concern is being choked out by dust.

"Some days, it's like living in a desert storm," said Rhonda Hamilton, who lives in Syphax Gardens and serves as a D.C. advisory neighborhood commissioner, representing about 2,000 residents in the area. "Our elderly residents complain about burning in their eyes and lungs; children with asthma are having more flare-ups. People start coughing and can't catch their breath. It's very scary."
PHILANTHROPY
– Vu Le, Nonprofit AF blogger, discusses why he believes the concept of fairness is the antithesis of justice and why the philanthropic community should have the courage to be "unfair." (NAF, 4/29)
– A new book documents the growing influence of public-private partnerships with local governments. (Chronicle, 5/7 – Subscription needed)
Related: In October, WRAG is hosting a "Brightest Minds" program featuring business and philanthropy leaders from Northeast Ohio, who will explain how they have partnered to grow their regional economy. This program is open to the public. Details here.
WORKFORCE | Loudoun Co. to study, develop family leave options for county employees (WTOP, 5/7)
EDUCATION | Maryland Governor Larry Hogan plans to sign a bill that will cover tuition costs at community colleges for qualifying residents. (WaPo, 5/4)
GENDER GAP | The economy has mostly recovered from the 2008 recession, but for some households, especially those headed by low-income, single women, it still hasn't. (Yes! Magazine, 4/30)
TECHNOLOGY | Creating A Space For D.C.'s Black Programmers And Innovators In A Digital Divide (WAMU, 5/4)
---
Here's something to make you smile on this Monday: Happy (belated) Teacher's Appreciation Week!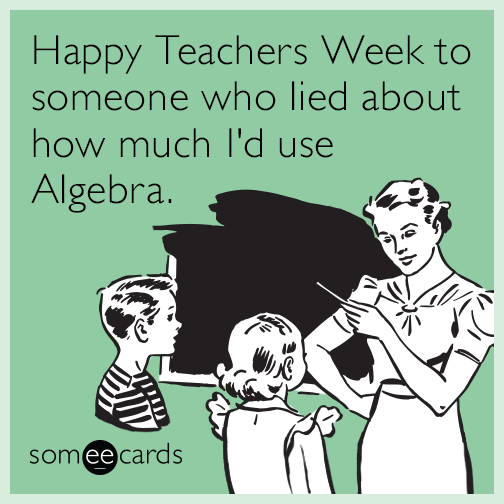 Do you want to be involved? Send us a picture of something that has made you smile and we may include it in the "Daily WRAG's Monday Smile"!
Email us your content at allen@washingtongrantmakers.org.
– Kendra